Our team of dedicated dental health professionals are here to serve you. We combine extensive knowledge in the field of dentistry with a passion for helping people love their smiles. It is our goal to create a friendly and professional atmosphere that you can rely on for all of your dental needs.
Ayham Yacoub, DMD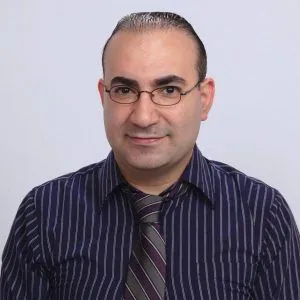 Dr. Yacoub received his Undergraduate degree in Biochemistry and Molecular Biology from the Pennsylvania State University and earned his DMD (Doctor of Medicine in Dentistry) from the University of Pittsburgh School of Dental Medicine in 2007.
Our office is proud to offer Digital Radiography to our patients. This process emits up to 90% less radiation than a conventional film system and eliminating toxic chemical waste. These are important reasons we invested in this new technology. We also have the most updated ultrasonic sterilization equipment to ensure the cleanest equipment is used on our patients. In keeping with our values of providing eco-sensitive Dentistry, we have prepared to go paperless and chartless.
Languages Spoken:
English/Arabic
Professional Memberships:
The International Association of Dentists
Awards and Publications:
Top General Dentist in Whitehall, PA
Questions and Answers with Dr. Yacoub
What got you into the specific practice of Dentistry?
I certainly love the gift of being able to establish relationships with my patients. I wanted to go into dentistry because it affords me the opportunity to challenge myself and to simultaneously make a difference by caring.
What landed you into your city and what is that you like about your neighbourhood?
I grew up in the Lehigh Valley, and I have always loved it and its surrounding areas. The climate is a perfect place to raise a family, and I am proud to be a member of this community with its wonderful nature-culture balance.
What procedures do you feel your practice excels in above others?
We excel with any procedure involving aesthetic and cosmetic dentistry. From veneers to full porcelain crowns, teeth whitening to implants, we have an excellent channel of communication with highly rated laboratories to design the best restoration the first time around.
What are the most challenging parts of your every day practice?
Patients dental fear and anxiety have always been a challenge and a reason for most patients to avoid pursuing dental care. Our office offers a relaxed, friendly atmosphere that helps most people overcome dental phobia.
What are the best moments that make it worthwhile?
Everyday, I feel honored to be part of my patients' pain and healing.There is nothing more rewarding than establishing a relationship with patients and teaching them about their diagnosis and treatment and becoming part of a team that is working towards the well being of our society.
What HMO or PPO providers are you in-network with? Do you offer financing?
To help our patients afford our quality dental care, we offer CareCredit and in-office financing. In addition, we are an in-network provider with the following dental insurance companies: United Concordia, Deltal Dental, Cigna, Guardian, Aetna, Blue Cross, Metlife, Dentemax, Principal financial group, Ameritas, Magnacare, Spectrum Administrators, Medcost, Humana, DDS, RLS Dental.
Do you accept any Government programs and/or discount cards?
To honor our veterans and military members, we are an in-network provider partnering with Tricare. Also, we offer in-network discounts through Carington P500 discounted plan.